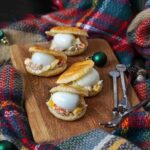 Puff pastry shells for Three Kings Day
The Three Kings are coming! 🤩 .To celebrate your arrival, we propose you some puff pastry shells filled with white tuna neck.
With this recipe from Silvia, this XI edition of our Christmas contest ends. One more year, it has been a real pleasure; we have enjoyed a lot!
Throughout January, we will choose and publish the winning recipes. Starting next week, our usual recipe contest returns. Remember that you can win a delicious Anniversary Pack.
We wish you that the Three Wise Men are generous to you and a good end of the holidays!
Ingredients
Instructions
Make cuts in the puff pastry sheet, using a circular fluted cutter.
Cut a small piece with a knife and press with your fingers.
Then make small fan-shaped cuts simulating the grooves of a shell.
Put it on baking paper and brush with the beaten egg.
Bake it, with the oven preheated to 190 ºC, about 10-12 minutes. Take out and let cool.
Meanwhile, prepare the filling by chopping the crab and lettuce. Mix it with the rest of the ingredients.
Once the puff pastry is cold, cut it in half with a knife without reaching the end. Fill it with the lettuce mixture and put a boiled quail egg (or medium if the shells are small).
Silvia recommends us to eat it immediately.
---
Featured Product
White tuna neck 120 g can
If you like this recipe, you can prepare it at home with the white tuna neck (cogote) available at our online store.
Buy
Share this recipe!