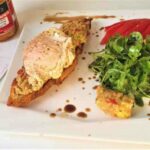 Croissant with poached egg made in smoked tea and guacamole with tuna in olive oil and Espelette paprika
Today's Christmas aperitif will delight lovers of "cuisine française", because Jeanne-Chantal's recipe (En cuisine avec Chouquette) has everything: a "croissant", poached egg, our Tuna in olive oil and Espelette paprika... Sounds good. Right? Then it will taste better, so we suggest you choose a Christmas carol album in French and get down to work. It is a sure success!
Ingredients
Instructions
Toast the croissant in the oven for 10 minutes.
Heat 500 ml of water in a saucepan and let the tea brew for a few minutes.
Add the vinegar, stir and add the egg in the middle of the tea infusion.
Wait 3 minutes and remove the egg.
Prepare the tuna guacamole: mix the tomato, tuna and avocado, with lemon and a little honey.
Make the dressing for the salad with balsamic vinegar, honey and oil. Add the salt and mix with the salad.
 Make the appetizer: spread the tuna guacamole on the croissant, put the poached egg on top, and serve with the salad.
Délicieux ! Thank you, Jeanne-Chantal!
---
Featured Product
If you like this recipe, you can prepare it at home with:
White tuna in olive oil and Espelette paprika. 190g bottle.
White Tuna (Albacore) in olive oil with Espelette or Ezpeleta paprika.
.
Buy
Share this recipe!