We have a great plan for you today: put your favourite Italian music album on at full volume and everyone get their hands dirty! Yes, we're going to get them dirty, because with this recipe by Rocío we're going to prepare a delicious home-made focaccia dough.
And not only that, we're also going to complete it with some fantastic ingredients: White Tuna, black olives and tasty spices. Pure flavour!
And if you want to check out more dishes don't miss her family blog cocinando con las chachas.
Ingredients
For the dough:

Wheat bread flour – 250 g
150 ml water
Dry baker's yeast – one tsp
Sugar – 1/2 tsp
Salt – 1/2 tsp

For the filling:

White Tuna – 3 tins
Pitted black olives
Oregano
Basil
Vera paprika flakes
Preparation
In a bowl, mix the water with the baker's yeast; add the salt and the sugar, and then the flour.
Mix it all with a spoon in the bowl. When it's all almost combined, tip the dough on the counter where you'll knead it until you get a uniform dough.
Shape the dough into a ball, place it in a dry bowl sprinkled with flour and leave it to rest so that it ferments and doubles its volume (one hour to one hour and a half in a warm location).
Once it has raised, tip the dough onto the counter and slightly degas it.
Preheat the oven to 200 ºC.
With the help of a kitchen scale divide the dough into portions.
Make balls with the portions and flatten them with a rolling pin until they are approximately one to one and a half centimetres thick.
Place the bases of the mini-focaccias on an oven tray with oven paper on it.
With your finger, make small holes in the dough and fill them with the olives and the tuna.
Sprinkle the spices over them.
Oven bake the mini-focaccias for some 10 minutes, until the base is golden and crunchy.
Remove from the oven and serve hot.
Spectacular, thanks Rocío!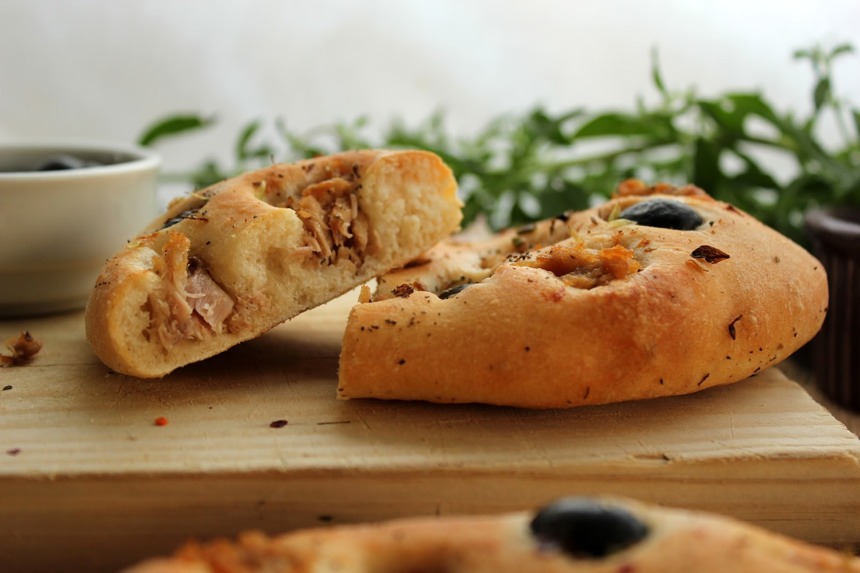 Share this recipe!