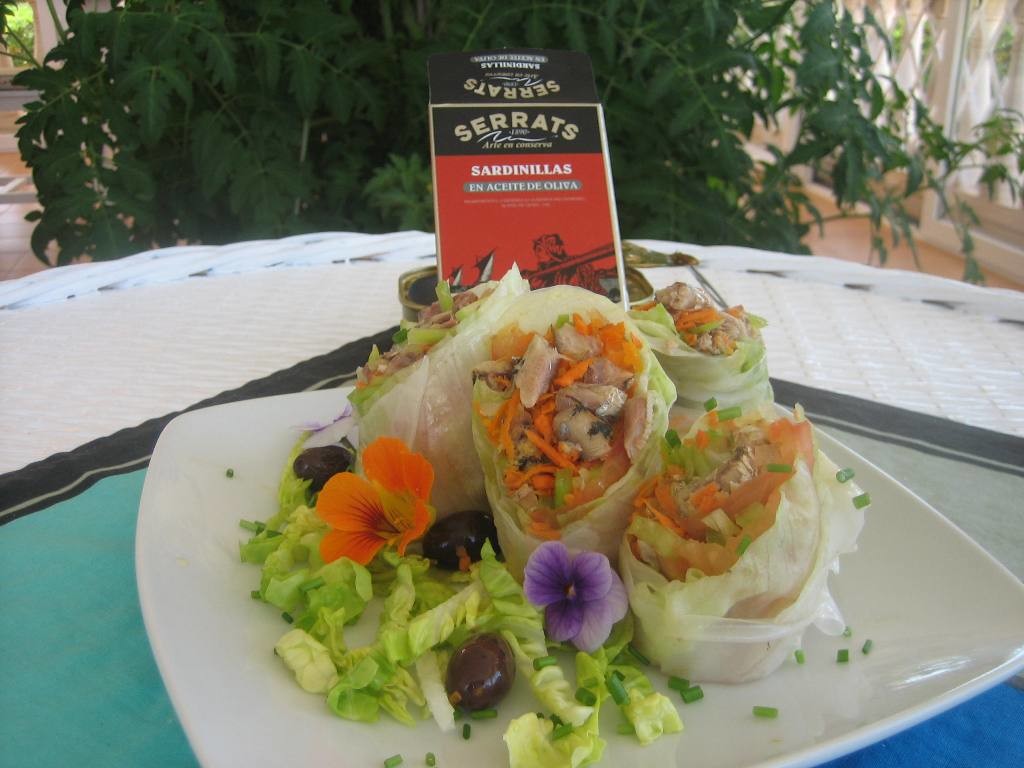 If you're looking for a complete, tasty and also appealing and surprising dish, you'll love these rice rolls with vegetables and sardines that Margarita has sent in to us. 
Ingredients
Rice wafers
Small sardines in olive oil – 1 tin
Green pepper
Grated carrot
Tomato
Onion
Cucumber
Lettuce
Hard-boiled eggs
Black olives
Edible flowers
Virgin olive oil
Salt
Preparation
Wash the vegetables and cut them in Julienne strips (except the cucumber and carrot).
Peel the cucumber, cut it, salt it and leave it to rest in a colander, so that it isn't hard to digest.
Grate the carrot.
Put the rice wafers in hot water for a few seconds until they turn soft..
Lay them on a clean cloth and carefully dry them.
On each wafer first place a leaf of lettuce, the vegetables dressed with salt and olive oil, the chopped hard-boiled egg and a couple of sardines.
First fold it, tuck in the sides and then roll it.
When serving, decorate the plate with some lettuce and edible flowers (nasturtium and pansies) that give the salad colour and flavour. Margarita tells us that in this case she was lucky to have them in her garden, although they can also be grown in pots, on a terrace or balcony, and encourages us to grow them as it is very easy and gratifying. We'll then have them available safe in the knowledge that they aren't treated with insecticides or any other chemical products.
A surprising and colourful recipe. Thanks Margarita!
Share this recipe!