Whole-wheat bread with roasted vegetables, anchovies and belly (Coca de escalivada)
Today we suggest you celebrate the weekend with a delicious whole wheat bread with roasted vegetables (Coca de escalivada), anchovies and White Tuna belly. A perfect recipe to share, which could be part of our compilation of recipes for Valentine's Day. Cristina debuts in our recipe contest  with a proposal that combines the best of Mediterranean and the Cantabrian seas.
Coca is a pastry dough typically made and consumed on the Spanish Mediterranean coast. It is similar to pizza and focaccia, two other Mediterranean doughs, but it has a medium thickness between them, and can be used with both sweet and savory recipes. In this case, Cristina opts for the second option
For the pastry dough, use whole wheat spelled flour (which as we can see in the post about types of flour, is a healthy alternative). She adds another Mediterranean recipe, the escalivada. Finishing with the Cantabrian touch, our canned fish: anchovies and tuna belly.
As you can see, all the ingredients are delicious and healthy. We leave you with Cristina's recipe, which we encourage you to prepare for the weekend and tell us the result
Ingredients
Instructions
To prepare the escalivada, roast an aubergine and a red pepper in the oven with oil and salt for about 40 minutes.
Use the mixer or knead by hand to make the whole wheat bread dough for the coca:

Put the flour in a bowl and make a hole in the middle, add the dry yeast, salt, and mix it.
Make a hole again and add the water and oil. Begin to stir and then add salt.
Knead for 10 minutes (in a mixer or by hand).
Make a ball with the dough and put it in the bowl covered with plastic wrap.
Let the dough rest in a warm place for an hour and it is ready to roll out and add the ingredients!

Roll out the dough on a rectangular baking sheet.
Put the grated tomato on the entire base.
Add the escalivada (pepper and aubergine) and put on top, the tuna belly, the anchovies and the olives cut in half.
Put a drizzle of olive oil and a little oregano on top.
Put the coca in the oven at 180 ° for about 15 minutes and enjoy!
Delicious, complete and healthy! Thank you Cristina
Featured Products
If you like this recipe, you can prepare it at home with:
Cantabrian anchovies in olive oil. 50 g tin
Cantabrian anchovy fillets in olive oil, carefully selected by Serrats, in olive oil.
Buy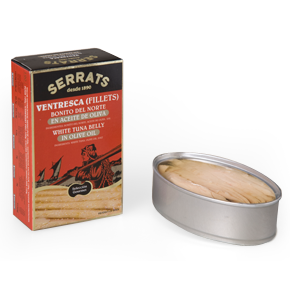 White Tuna belly in olive oil 120 g
White Tuna (Albacore) fillets "Ventresca" (Belly) carefully selected by "Serrats" Preserves, in olive oil.
Buy
Share this recipe!