Warm salad of peppers and anchovies
Our summer contest is progressing very well, with delicious recipes. This week we propose to you a warm salad of peppers and anchovies.
It is not a secret; we love the mix of peppers with canned fish. Some time ago, we published a selection of salads with roasted peppers  and today we bring you a different proposal, with wok-sautéed peppers. The recipe is from Carmen, author of Recetas Casa Carmen blog.
Enjoy!
Ingredients
Instructions
Cut the vegetables into not very large squares and sauté them in a wok with two tablespoons of extra virgin olive oil.
Add all the spices except the basil. Give a few more turns and put it on a plate.
Put the anchovies on top and sprinkle the basil.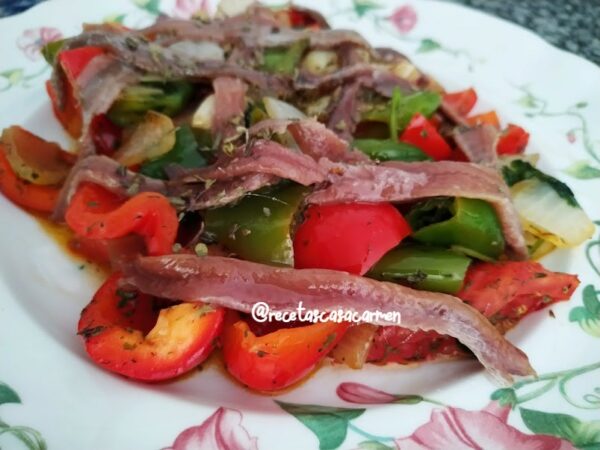 Simply delicious. Thank you Carmen!
---
Featured Product
Cantabrian anchovies in olive oil. 85 g tin
If you like this recipe, you can prepare it at home with the Cantabrian anchovies available in our online store.
Buy
Share this recipe!