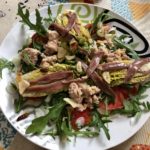 Warm salad of braised buds with tuna, anchovies and bilbaína sauce dressing
This week we propose you a warm salad with a special touch. We are sure that you are going to love it! The base is braised lettuce buds; a little arugula, tomato ... And of course, don't miss the sailor touch; in this case, twice: some Cantabrian anchovies and a little white tuna. In addition, the final touch: a tasty dressing from bilbaína sauce. The author of the recipe is María Teresa and you can find more recipes in her Instagram account @Marycocinillas. Enjoy your meal!
Ingredients
Instructions
First, prepare the bilbaína sauce and reserve: in a frying pan with three or four tablespoons of extra virgin olive oil, fry the sliced garlic and chilli. When the garlic is golden brown, set it aside and add a drizzle of vinegar and salt to taste... Move well so that it emulsifies, put it in a bowl and let it warm.
In the same frying pan (without cleaning) and over high heat, pass the buds cut in half on both sides.
Place the braised buds on the plate with the arugula, spring onion and tomato.
Add the Cantabrian anchovy fillets and the white tuna.
Add the bilbaína sauce and ... delicious!
Delicious salad, thank you, María Teresa!
---
Featured Product
If you like this recipe, you can prepare it at home with:
Cantabrian anchovies in olive oil. 50 g tin
Cantabrian anchovy fillets in olive oil, carefully selected by Serrats, in olive oil.
Buy
White Tuna in Olive Oil. 250 g jar
White Tuna (Albacore) loins carefully selected by "Serrats" Preserves, in olive oil and packaged in a glass jar.
Buy
Share this recipe!