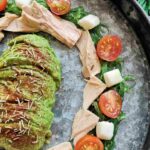 Wakame seaweed and tuna salad, «Sapore Di Mare»
¿Have you ever eaten wakame seaweed? Its use is very common in the kitchens of Japan and Korea, especially in soups and salads, and it has a very special sea flavor. If you don't know how to use them, Belén (@belem_betterval) proposes us a Wakame seaweed and white tuna salad. A seafaring idea, which has called "Sapore di Mare".
In addition, it also has avocado, cherry tomatoes and goat cheese in small cubes. The result is a rich salad in the shape of a crown, very fresh and easy to prepare, in just 5 minutes.
Ingredients
Instructions
Cut half an avocado, give it the desired shape and place it in the middle of the plate.
Starting from the outside inwards, place the ingredients in this order: make a circle with the wakame seaweed; on top, place the cherry tomatoes cut in half, leaving some gaps between tomato and tomato. In the center, make another circle with the tuna, surrounding the avocado; finally place the goat cheese cubes between the cherry tomato halves.
Add extra virgin olive oil and a pinch of paprika and rosemary to the avocado.
A different salad. Thank you, Belén!
---
Featured Product
If you like this recipe, you can prepare it at home with:
White Tuna in Olive Oil. 250 g jar
White Tuna (Albacore) loins carefully selected by "Serrats" Preserves, in olive oil and packaged in a glass jar.
Buy
Share this recipe!