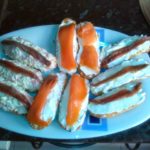 Varied Pintxos with Cantabrian anchovies and White Tuna
Ingredients
Instructions
The preparation is very simple, since you only have to arrange the ingredients on the rolls; the key is in the quality of the raw material.
Spread the cheese on the buns and put an anchovy fillet on each of them.
In other rolls, put a mixture of chopped ham, tuna and surimi; and on top another anchovy fillet.
Finally, to accompany these two delicious Cantabrian Pintxos, you can prepare more with cheese and smoked salmon.
Simply delicious! Thank you, Antonio.
---
Featured Product
If you like this recipe, you can prepare it at home with:
Cantabrian anchovies in olive oil. 50 g tin
Cantabrian anchovy fillets in olive oil, carefully selected by Serrats, in olive oil.
Buy
White Tuna in Olive Oil. 250 g jar
White Tuna (Albacore) loins carefully selected by "Serrats" Preserves, in olive oil and packaged in a glass jar.
Buy
Share this recipe!