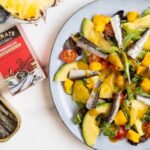 Tropical fruit salad with sardines
Have you ever tried adding fruit to salads? Apple, peach, cherries, orange... This time we propose a tropical fruit salad with avocado, mango and pineapple.
That sounds good! In addition, it is seasoned with an exquisite mango vinaigrette. In addition, all this set of tropical airs is accompanied by the touch of the Bay of Biscay provided by our "txikis" sardines. You cannot ask for more!
To make it even easier, at the end of the recipe you can see it in video format and discover the tricks of Lidia (Atrapada en mi cocina) to cut tropical fruit and prepare a salad that enters through the eyes and conquers the palate.
Ingredients
Instructions
Put the tender sprouts at the base of the plate and add the cherry tomatoes cut in half.
Add a few slices of avocado and diced mango (do not miss the video to see how Lidia cuts them).
Add some triangles of pineapple.
Finish by placing some sardines.
Make the mango vinaigrette (mix a little mango puree with extra virgin olive oil, balsamic vinegar and salt) and pour it over the salad.

An exquisite tropical and Cantabrian fusion. Thank you, Lidia!
---
Featured Product
Small sardines in olive oil. Can 120gr.
Small sardines carefully selected by "Serrats" Preserves, in olive oil and packaged in a can.
Buy
Share this recipe!