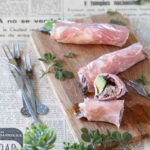 Stuffed pork rolls with small sardines and avocado
Today we propose another easy and delicious canapé for New Year's Eve and/or New Year. Some ham rolls stuffed with sardines, avocado and cream cheese, with a touch of purple onion.
A very easy recipe to make, in which the quality of the ingredients takes on a special role. Like our small sardines, txikis, irresistible and full of properties.
If, in addition to canapés, you are looking for ideas for dessert, you cannot miss Silvia's blog: Mi dulce tentación.
Ingredients
Instructions
Spread each pork slice with the cream cheese.
At one end, put about three strips of onion cut into long and thin strips, a strip of avocado and two small sardines.
Roll it up.
Simply delicious rolls. Thank you Silvia!
---
Featured Product
Small sardines in olive oil. Can 120gr.
Small sardines carefully selected by "Serrats" Preserves, in olive oil and packaged in a can.
Buy
Share this recipe!