Spanish potato salad with tuna belly
The Spanish potato salad is one of those dishes that always triumphs, the queen of summer salads. As each person prepares it in their own way, we can find a thousand variations of this traditional recipe, but all of them are delicious. Today we suggest you try to make Paquita's proposal, which also uses belly, one of the most special parts of the tuna. Our mouths are watering just thinking about it!
We encourage you to try it. In addition, if you want ideas of main courses to accompany it, check de Instagram account of Paquita, @paquitaligero, a window open to her kitchen.
Ingredients
Instructions
Cook the green beans, the potato and the carrot in salted water. In another pot, cook some eggs as well. Let it cold down.
Cut the vegetables into small pieces.
Cut the gherkins, the stuffed olives, a few strips of piquillo pepper and the piparras.
Peel the eggs and cut them in half.
In a bowl, mix everything except the eggs and season with the olive oil from the tuna belly tin, to add flavor.
Add the eggs, the tuna belly and some olives.
Decorate the eggs with a strip of green and red pepper.
Mayonnaise can be mixed beforehand or served separately.
Delicious! Thank you, Paquita.
---
Featured Products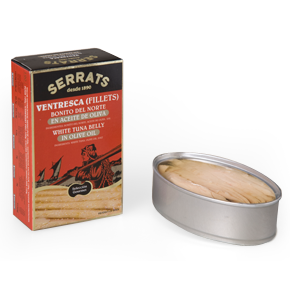 White tuna belly 120 g can
If you like this recipe, you can prepare it at home with the white tuna belly available at our online store.
Buy
Share this recipe!