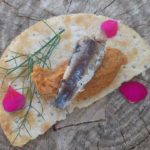 Serrats Baby Sardines in romesco sauce
Maite has added the finishing touches to our recipe contest for July-August (remember that the next round is September-October) with one of those recipes that catches the eye. The stars are baby sardines, in good company.
Ingredients
Instructions
Prepare the romesco sauce: fry the almonds, plenty of bread and garlic; then, add ñora, salt, vinegar, natural tomato and olive oil. Blend the ingredients together.
Spread a little romesco sauce on a piece of toasted soya bread and sugar and anise cake.
Add one or two sardines on each piece of toast.
A very tasty combination. Thanks, Maite!
Share this recipe!