Sardines toast
One of the great advantages of canned fish is that they allow us to prepare delicious express recipes  like this sardine toast that Cristina sends us to participate in our recipe contest. An easy recipe, which is quickly prepared, ideal to enjoy a quick dinner or a delicious snack.
Ingredients
Instructions
Toast a few pieces of bread.
Chop the tomatoes, chives and chives.
Add the salt, vinegar and oil.
Put the minced meat on top of the toast.
Finally, put the sardine and add a drizzle of oil and a little salt.
A quick and delicious toast. Thank you Cristina!
---
Featured Product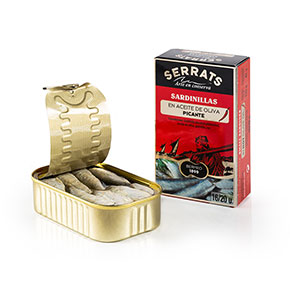 Spicy sardines in olive oil. 120 g can
If you like this recipe, you can make it at home with the spicy sardines available in our online store.
Buy
Share this recipe!