Roasted pepper and belly salad
¡It's Thursday! Moreover, even though it is almost a month away, it smells like spring! This week we present you a salad of roasted peppers with belly that you can eat on the balcony enjoying this pre-spring sun. The recipe is from Sara, who is passionate about cooking, as you can see on her Instagram @conmisfotosenmicocina.
Roasted peppers have always combined luxury with Tuna. If we also use the juiciest and most delicious part of this cold fish, the belly, the combination becomes a delicacy of the gods. In addition, if we add avocado on top!! ...  Better that you check it yourself,
Ingredients
Instructions
Spread the peppers in oil and roast them in the oven at 200 ° C until the skin is easily removed
Once they are warm, remove the skin and reserve in its juice.
In a salad bowl, add the finely chopped peppers, avocado and chives.
Season with oil, vinegar and salt.
Finally, put them individually in a bowl decorated with the belly fillets. .
Delicious and spring-like, thanks Sara!
---
Featured Products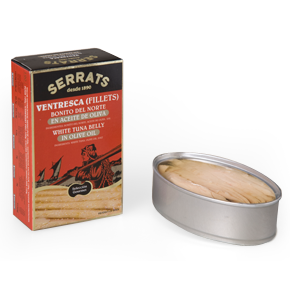 White tuna belly 120 g can
If you like this recipe, you can prepare it at home with the white tuna belly available at our online store.
Buy
Share this recipe!