Piriñaca (potato salad) with Albacore tuna belly
Piriñaca is a typical Cantabria salad whose main ingredient is potato, or so it says in the great font of knowledge known as Wikipedia. Although it is also known as a Cadiz recipe (in this case with tomato, onion and green pepper). Without going into a grand discussion about the gastronomic variations, one thing that is clear is that this potato salad with tuna belly recipe sent by Manuel looks spectacular and very appetising. If it appeals to you too, please take note of the recipe.
Ingredients
Instructions
Cut the cucumber into very thin slices, sprinkle with cider vinegar and extra virgin olive oil and leave it to marinate for half an hour.
For the piriñaca salad, cook the potatoes. When they cool, chop them into pieces (not too large) and mix with the chopped tomato, the red onion in julienne, and the lettuce, with no dressing.
To assemble the dish, cover the plate with the cucumber, place the ring in the centre and arrange the sliced potatoes, the tomato and the red onion. And finally, cover with the tuna belly.
To serve, add the dressing used to marinate the cucumbers.
Garnish with a strip of bell pepper and sprinkle the ñora spicy red pepper and parsley.
Complete and delicious, thanks Manuel!
Featured Products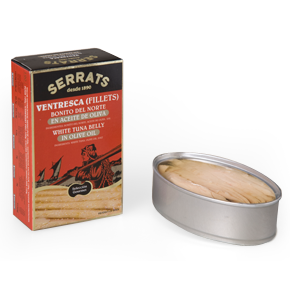 White tuna belly 120 g can
If you like this recipe, you can prepare it at home with the white tuna belly available at our online store.
Buy
Share this recipe!