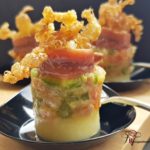 Pintxo of anchovy salad with fried egg sprig
The salad on its own is a classic that is always successful, but if we add some Cantabrian anchovy fillets, it becomes a dish with distinction. But what if we aimed for the first-class honors? Rosalía (Rossgastronómica) suggests a spectacular pintxo of anchovy salad with a few special touches, among which the crispy egg sprigs stand out. Do not miss it!
Ingredients
Instructions
Cook the potatoes (in cold water and with skin) until tender. Once cooked, remove from the water and allow to cool.
Chop the green and red peppers, chives, avocado and peeled and seeded tomatoes into very small pieces. Set everything aside in the same container.
Peel the cooked potatoes, cut into slices of 1/2 cm. of thickness and polish with a short round cutter of 3.5 cm. Set aside.
Drain the anchovies (set aside the oil).
With a fork, crush a little of the cooked potato leftovers and mix with a couple of teaspoons of anchovy oil until obtaining a paste.
Mix the potato paste with the chopped vegetables.
Finely chop the anchovies from one of the cans and mix with the previous preparation. Set aside.
Whisk the egg with a pinch of salt and place in a pastry bag.
Heat some EVOO (Extra Virgin Olive Oil) in a pan. When the oil is hot, make a small cut in the tip of the pastry bag containing the whisked egg and fry it in the shape of strands in the oil. When golden and crispy, remove with the help of a skimmer and place on paper towel.
Place a portion of the vegetables and anchovy mixture on each potato disks with the help of a ring. Press lightly and remove the ring.
Place a full anchovy on each pintxo and finish decorating with a few pieces of fried egg sprigs.
Spectacular. Thank you Rosalía!
---
Featured Product
If you like this recipe, you can prepare it at home with:
Cantabrian anchovies in olive oil. 50 g tin
Cantabrian anchovy fillets in olive oil, carefully selected by Serrats, in olive oil.
Buy
Share this recipe!