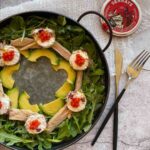 "Pearls of the Sea" salad with arugula and tuna
Belén (@belem_betterval) proposes us "an easy and above all quick salad to prepare to enjoy the summer to the fullest and not waste time in the kitchen". ¿What if we tell you that besides being easy and fast it is good and pretty? The "Pearls of the Sea" salad has it all. In addition, it combines a classic gastronomy such as our Tuna, with products as original as tomato pearls and goat cheese wrapped in edible flowers.
Ingredients
Instructions
Distribute the ingredients in a crown or circular shape: starting from the outside with arugula, pieces of tuna and sliced avocado.
Add some medallions of goat cheese with edible flowers on the tuna circle.
Put a teaspoon of tomato pearls on each medallion of cheese.
Finally, put a touch of olive oil from the tuna jar.
Belén invites us to "enjoy this wonderful salad both at home and in the pool or wherever but in the company of your loved ones".
A good, pretty and quick to prepare recipe. Thanks, Belén!
---
Featured Product
If you like this recipe, you can prepare it at home with:
White Tuna in Olive Oil. 227 g jar
White Tuna (Albacore) loins carefully selected by "Serrats" Preserves, in olive oil and packaged in a glass jar.
Buy
Share this recipe!