Pasta and tuna salad with sunflower seeds and mustard
Time flies! Not long ago we celebrated the beginning of the year but we are already at the end of February! Very soon, we will be in spring. Today we bring you an ideal recipe to be ready for it: a pasta salad with tuna, perfect for a picnic.  In addition to the typical ingredients of this type of salad, Eneko gives it his personal touch with some sunflower seeds and a little mustard.
Ingredients
Instructions
Cook the pasta spirals.
Peel the tomato and cut it into pieces of the desired size.
Then cut the onion.
Put it all in a salad bowl.
Add the tuna and the peeled sunflower seeds.
Drizzle with a splash of mustard.
Finish dressing to taste.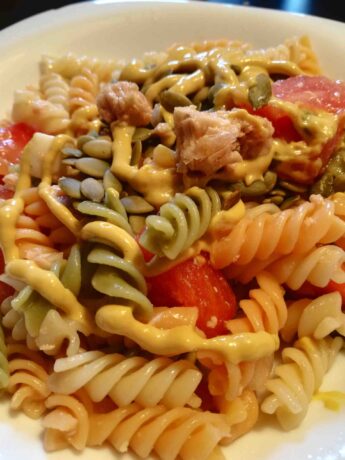 A spring looking dish. Thank you, Eneko.
---
Featured Product
Yellowfin tuna
If you like this recipe, you can make it at home with the yellowfin tuna available in our online store.
Buy
Share this recipe!