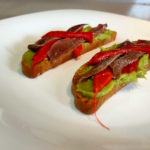 Guacamole, anchovy and piquillo pepper toast
With the weekend around the corner, we suggest you swap Friday's pizza for the guacamole and anchovy toasts that Iratxe sends us to participate in our recipe contest.
Whether for a tasty mid-morning snack or for a quick dinner, toasts are usually one of the most useful options. With just a few ingredients, you can prepare quickly delicious meals by opening a can. The options are endless and the key is to choose quality ingredients. Iratxe, who knows this for a while, tells us that good canned foods are a great help in his day to day; and among them, canned fish and vegetables, which are never lacking in your kitchen. For this toast, he also uses prepared guacamole, which "it's great when we can't find quality avocados on the market "; and, she insists that we look at the ingredient list, and choose one that has a minimum of 95% avocado.
Well, to get to work, we leave you with Iratxe's proposal.
Ingredients
Instructions
Spread the toast with guacamole.
Add a couple of Cantabrian anchovy fillets.
Dry the piquillo peppers a little with kitchen paper, remove the seeds and cut into strips. Put some strips on each guacamole and anchovy toast.
Sprinkle with an extra virgin olive oil.
Delicious combination! Thanks, Iratxe!
---
Featured Product
Cantabrian anchovies in olive oil. 50 g tin
If you like this recipe, you can prepare it at home with the Cantabrian anchovies available in our online store.
Buy
Share this recipe!