Gourmet Christmas canapes: mini spicy sardines toasts in tempura
Today, we can really talk about "gourmet" Christmas canapes, since the spicy sardines toasts in tempura sent by Rosalía (Rossgastronomic) are worthy of a high-end restaurant menu. Perfect to amaze the most demanding palates! If you want to succeed with your Christmas canapes, take note of this recipe.
Ingredients
Instructions
Open the can of spicy sardines in olive oil, take them out very carefully not to break them and place them on absorbent paper. They should be very dry and without fat remains so that the tempura dough adheres well to the sardines.
Drain the remaining oil in the can through a colander and set aside.
While the sardines are draining, mix the mayonnaise with a few tablespoons of the sardine oil and set aside.
Tempura: Pour flour in a bowl and gradually add very cold water. Dissolve the water in the flour until obtaining a semi-liquid dough without lumps. Cover and keep in the fridge.
Start to make the "sunflower seeds bread": distribute a spoonful of peeled sunflower seeds over several slices of bread and press as hard as possible with a roller to inlay the seeds in the bread.
Toast the slices of seeds bread on both sides in a very hot pan with a drop of oil.
Once toasted, make squares with a knife (serrated if possible) until obtaining the shape and size that best matches the size and format chosen to present the dish. Set aside the toasts until serving.
Peel the tomatoes, remove the seeds and take out petals or wide strips of tomato. Set aside.
Sardines in tempura: Heat a pan with abundant soft olive oil (you may also use sunflower oil).
When the oil is very hot, coat the sardines with the tempura dough and fry them in batches. As it is a very fast frying, make sure they do not burn. As you remove the sardines from the frying, let them drain on kitchen towel.
Serving: On each toast of seeds bread, place a tomato petal and a leaf of young spuds. Add a little salt and a few drops of EVOO on top. Add a sardine, decorate with threads of mayonnaise and finish with arugula sprouts.
Amazing gourmet Christmas canapes. Thank you, Rosalía!
---
Featured Product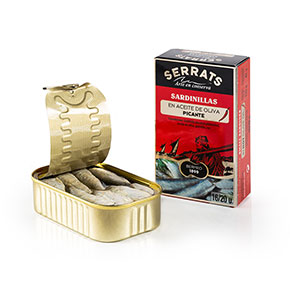 Spicy sardines in olive oil. 120 g can
If you like this recipe, you can make it at home with the spicy sardines available in our online store.
Buy
Share this recipe!