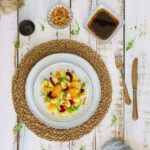 Gnocchi salad with mandarin, beetroot and white tuna
August is ending and our special salad contest ends. To finish in style, let's make a salad of homemade gnocchi with mandarin, beet and white tuna that María sends us.
Gnocchi are a type of pasta that is made from a kind of mashed potato. Nowadays they can be found prepared in any supermarket, but if we make them at home like María they will have a special charm. If you have never prepared gnocchi at home, now is the time, because María explains how to do it.
In any case, if you prefer to save time, you can make the salad with purchased gnocchi, and it will continue to be delicious, because it has several details that make it special. Read on to discover them.
If you like it, you can see more Maria's recipes on her Instagram account, @rochini55.
Ingredients
Instructions
First, make the homemade gnocchi (María tells us that she prefers to make them herself, but that if you want to save time and work you can buy them already made):
Wash the potatoes and cook them with their skin in plenty of boiling salted water for about 25 minutes, checking their doneness by pricking with a fork. Drain and let cool a little to peel them.
Once peeled, mash with a presser or fork.
Add the egg and a little salt, and mix gently with your hands while adding flour little by little, until you get a homogeneous and not very sticky dough.
Form cylinders and cut them into pieces of about 2 centimeters.
You can leave the gnocchi like this or give them a little more shape with the help of a fluted board or with a fork.
To make the gnocchi salad:
Cook the gnocchi in several batches in plenty of salted water and remove them as soon as they rise to the surface.
Add a drizzle of olive oil, stir and let it warm up.
As soon as it is tempered, add the well-drained mandarin segments to the gnocchi (reserve the syrup for the dressing), the chopped beet, the crumbled tuna, and the arugula to mix everything.
Emulsify a vinaigrette by vigorously mixing the oil, vinegar, three tablespoons of the syrup, salt and pepper.
Sprinkle some chopped walnuts on top of the salad and serve with the vinaigrette and some extra walnuts so that each one can be served as desired.
Amazing! Thanks Maria.
---
Featured Product
White Tuna in olive oil 150 g
If you like this recipe, you can make it at home with the White Tuna available in our online store.
Buy
Share this recipe!