Galician canned sardine pie
We close the week with a spectacular Galician small sardine's pie. A recipe with a long tradition. Did you know that pie have been known in Galicia since the time of the Goths in the 7th century? So says Wikipedia, at least, that source of knowledge.  Today the municipalities of Galicia offer them on occasions of celebration and pilgrimage. Pure gastronomic tradition.
The first Galician pie of which there is a reference is made of chicken and mushrooms, but it is usually prepared with various contents inside. Our favorites are... the fish ones! Tuna, White tuna, sardines...Precisely the latter is the canned food chosen by María Teresa to debut in our recipes competition.
We encourage you to try their succulent canned sardine empanada. Then you can continue enjoying all the recipes he has on his Instagram account, @marycocinillas. ¡Bon Appetite!
Ingredients
Instructions
Boil four eggs. When they cool, peel, and cut. Reserve them.
Meanwhile, make a sauce with the extra virgin olive oil, the onion, the three tomatoes cut in brunoise and the "padrón peppers" cut lengthwise and without seeds. Season and reserve.
On one of the pie bases, spread the freshly made homemade sauce. Above, we distribute the four laminated boiled eggs and finally the small sardines.
Cover with the other empanada dough, and seal the edges by pressing with your fingers or with the help of a fork. If there are pieces of dough left over, we can use them to decorate our pie.
Paint the surface with a beaten egg and bake at 200 ° C for about 40 minutes.
¡Bon Appetite!
A succulent classic seafood recipe. Thank you, Maria Teresa!
---
Featured Product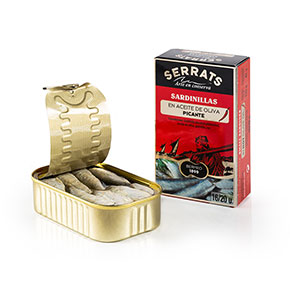 Spicy sardines in olive oil. 120 g can
If you like this recipe, you can make it at home with the spicy sardines available in our online store.
Buy
Share this recipe!