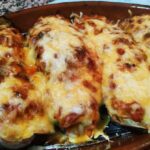 Eggplants stuffed with tuna and peppers
Who can say no to some succulent Eggplants stuffed with tuna and peppers? We cannot. Just thinking about this recipe by Vanesa (@vanelayka) and our mouths are watering...
Eggplant is one of the most versatile vegetables in the kitchen. It combines well with almost any food, being able to make many recipes with it: moussaka, escalivada, empanada, grilled, stuffed... Even stuffed eggplant admits almost any ingredient... It is very common to prepare it with meat, but our favorites are fish. That is why we like these eggplants with tuna and peppers so much. Enjoy!
Ingredients
Instructions
Cut the eggplants in half and make some cuts in the meat. Add olive oil and salt. Put in the preheated oven, until they are done (about 20 minutes).
Fry the tuna, the peppers, the fried tomato and the meat of the roasted eggplant in a pan.

 Fill the eggplant, cover with the cheese and return to the oven, until everything is done and the cheese is melted.

Delicious. Thanks Vanessa!
---
Featured Product
Yellowfin tuna
If you like this recipe, you can make it at home with the yellowfin tuna available in our online store.
Buy
Share this recipe!