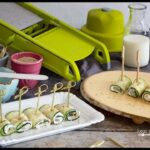 Cucumber sushi without rice, with anchovies and cream cheese
Do you prefer snacks or sushi? Don't worry, with today's recipe you won't have to choose, because these snacks are a kind of cucumber sushi without rice, with a creamy filling of cheese and anchovies. In short, an authentic Game of flavors, which Blanca and Ana play so well.
Preparing this cucumber sushi without rice with anchovies is so simple that once you try it you will repeat it for sure. Quickly opening a can of preserves you will have an easy, light and delicious snack, ideal for sharing. What more could you want?
To be even easier, at the end of the post you will find the Game of flavors video recipe. Bon Appetite!
Ingredients
Instructions
Cut the cucumber into thin slices lengthwise with a mandolin or a knife.
Mix the cheese with two teaspoons of milk.
Spread the cucumber slices with the cheese, place an anchovy on top and roll up.
Place on a small plate and sprinkle with sesame.
A delicious snack... Thank you, Ana and Blanca!
---
Featured Product
Cantabrian anchovies in olive oil. 85 g tin
If you like this recipe, you can prepare it at home with the Cantabrian anchovies available in our online store.
Buy
Share this recipe!