Cold rice cake and ORGANIC tuna
If the good weather awakens you the desire for refreshing food, this cold rice cake and organic Tuna that Mayte sends us can be a perfect for you. An easy recipe to prepare.
Usually, fish cakes  give many recipe possibilities in the kitchen, both hot and cold. In this Blog, we have a good example of this. Today we suggest you try Mayte's recipe, which also provides the special touch of tuna in organic extra virgin olive oil. Enjoy!
Ingredients
Instructions
Cook the white rice and let it cool.
Fry the tomato (if it is crushed tomato) in a little oil and add salt. If it is fried tomato, open the brick.
Shred the tuna.
Assemble the cake in the mold: first put a layer of rice, then spread a thin layer of tomato sauce, add a good layer of tuna and then another layer of rice.
Then put the mold in the fridge and let it cool.
To serve, spread a layer of mayonnaise as the last layer and put on the table. Enjoy!
A fresh recipe ideal for spring and summer, thank you Mayte!
---
Featured Product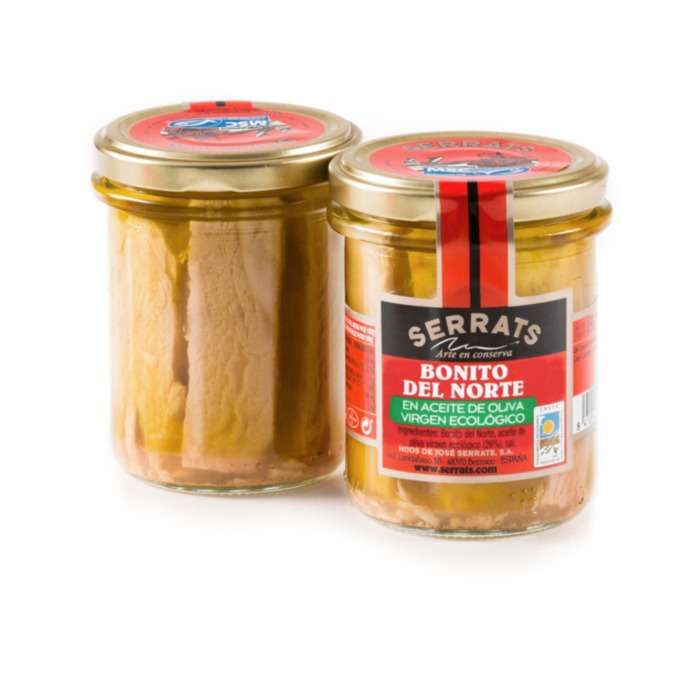 White Tuna (Albacore) in organic extra virgin olive oil Glass jar 190 gr.
Loins of White Tuna (Albacore) carefully selected by Conservas Serrats, covered in organic extra virgin olive oil and packaged in glass jar.
Share this recipe!