Christmas canapé: Spelt crackers with tuna belly and roasted aubergine
We continue with our proposals for Christmas canapes! This time we show you spelt crackers with tuna belly and roasted aubergine that Tatiana, La Webcinera, send to us. A light and delicious canapé, ideal to start the Christmas menu.
In addition, Tatiana tells us her secrets for this recipe. These crackers keep quite well and are still crispy days later if we store them in a hermetically sealed container. Likewise, the raw dough can also be frozen, just like the pizza dough: we wrap it with film paper and freezer. In addition, the roasted aubergine is a perfect batch-cooking recipe: we can bake several at the same time and use it one day for these Christmas canapes and another for a roast.
Ingredients
Instructions
Mix all the ingredients of the spelt crackers in a bowl, so that it is a compact but somewhat sticky dough.
Wrap the dough in plastic wrap and let it rest for about 15 minutes.
Preheat the oven to 190º C.
Cut the eggplant in half and make a few cuts along the surface. Sprinkle a little salt on top and let it sit for about 30 minutes (this is called bleeding the eggplant, to remove the bitterness). When it has released a few drops, dry it with a kitchen paper and it is ready to bake.
Place the dough of the crackers on top of a parchment paper, spread it out in a rectangular using a kitchen roller and leave it as thin as possible.
Spread a little olive oil over the dough.
Bake the crackers dough for approximately 15 minutes and the eggplant for about 20 minutes (it depends on the size of the eggplant).
Let the cracker dough cool on a rack and cut it into pieces of the size we want.
With a fork, remove the meat from the aubergine, put it on top of a cracker and add a little tuna belly on top with a little of its own oil.
Great idea, thanks Tatiana!
Featured Products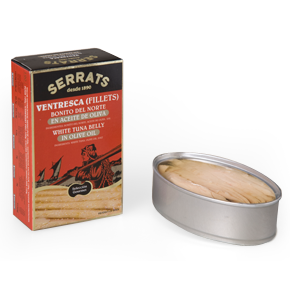 White tuna belly 120 g can
If you like this recipe, you can prepare it at home with the white tuna belly available at our online store.
Buy
Share this recipe!