Asparagus with tuna belly and vinaigrette tapa
Have you noticed that we are starting to have more daylight hours? Spring will be with us in just over a month, so we are looking for a dish with a touch of spring about it. And the tuna belly and vinaigrette tapa from La cocina de Manel y Pilar is just the ticket.
Ingredients
Instructions
Boil an egg for about 20 minutes. When finished boiling, place the egg to cool in cold water.
Next, make a vinaigrette with the honey mustard sauce, a little vinegar and EVOO. Stir well.
Make a beetroot mayonnaise: put a little mayonnaise in a bowl and mix with 2-3 slices of finely chopped beetroot.
In a frying pan, add a splash of EVOO and sauté both the white and green asparagus.
On a base of beetroot mayonnaise, put one sprig of white asparagus, then 3 green and 1 white. Alternate this way.
On top of the green asparagus, put a piece of boiled egg and tuna belly flakes.
Finally, add a few drops of the vinaigrette.
A delicious taste of spring. Thanks, Pilar!
---
Featured Product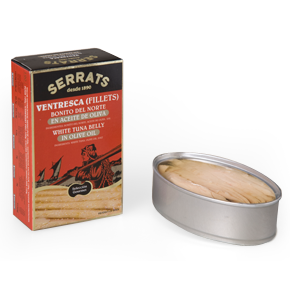 White tuna belly 120 g can
If you like this recipe, you can prepare it at home with the white tuna belly available at our online store.
Buy
Share this recipe!