Asparagus stuffed eggs and tuna belly
As soon as we started "researching" on stuffed egg recipes, we found a whole world of recipes. As in many other recipes, each one makes stuffed eggs in their own way and we can find very varied ideas. Of course, it´s one of those recipes that always triumph and as soon as they come out on the table, they disappear quickly.
With this week's recipe, made by Tatiana La Webcinera, they may not make it to the table. They are spectacular! One of its secrets is the use of belly, the juiciest and most delicious part of the Tuna, which turns any dish into a delicacy of the gods.
Do not miss the recipe to prepare at home these delicious eggs stuffed with asparagus and belly.
Ingredients
Instructions
Cut the asparagus into thin slices, reserving the tips.
Put the asparagus slices in a frying pan with a drizzle of oil.
While the asparagus is cooking, cook the eggs starting from cold water. When it boils, cook for 10 minutes.
Once cool, peel them and separate the buds from the asparagus.
Grind the buds together with the asparagus slices, grated Parmesan cheese, mayonnaise, mustard and a pinch of salt.
Put it in a bowl and add the shredded tuna belly.
Cook the buds of the asparagus in water for about 4 minutes (the time depends on the thickness).
Fill the eggs and decorate each egg with an asparagus bud.
A delicious starter recipe, thank you Tatiana!
---
Featured Products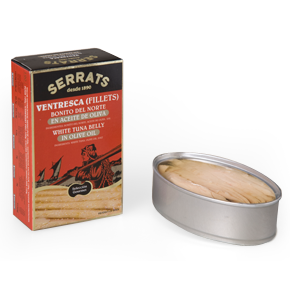 White tuna belly 120 g can
If you like this recipe, you can prepare it at home with the white tuna belly available at our online store.
Buy
Share this recipe!