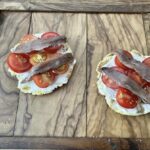 Anchovies toast on corn cakes
Although they are usually used to snack on something light between meals, you can also prepare delicious recipes with corn pancakes. For example, they can be a different base for toasts with all kinds of ingredients you want.
In this case, Pilar participates in our recipe contest with a delicious anchovy toast with cream cheese and cherry tomatoes. Using corn cakes instead of bread gives this recipe a crunchy texture and the special touch of corn, whose flavor may be reminiscent of popcorn. We encourage you to try it, since it is also very easy to do.
Ingredients
Instructions
Spread the cream cheese on the corn cakes.
Add some cherry tomatoes cut in half.
Decorate with the Cantabrian anchovies in olive oil and ready to enjoy!!!
An easy, fast and delicious starter. Thanks, Pilar!
---
Featured Product
Cantabrian anchovies in olive oil. 50 g tin
If you like this recipe, you can prepare it at home with the Cantabrian anchovies available in our online store.
Buy
Share this recipe!