Anchovies "Lasagna"
We are approaching the halfway point of our summer contest with an original lasagna-shaped salad with "sheets" of anchovy. In addition, for the "stuffing", salad tomato, marinated mushrooms, black olives...
A salad with a lot of flavor and a presentation of ten, sent by David (Recetas bon appetit).
Ingredients
Instructions
Drain the anchovies and store them until it is time to assemble the "lasagna".
On the other hand, clean and fillet the mushrooms into thin slices. Place them well stretched out on a bowl, season with salt and pepper and pour the juice and zest of one lime. Let marinate for 20 minutes, drain and dry with kitchen paper.
Clean the tomatoes, cut them crosswise, and blanch them for 20 seconds. Cool them, peel them, de-seed them and cut them into small cubes.
Chop the black olives, and add them to the tomato and oregano. Season and add a splash of olive oil. Mix well and store until it is time to assemble the "lasagna".
To make the "lasagna"
With a rectangular mold, 8 cm long by 4 cm high:
On a plate put a layer of anchovies and on top of them the tomato and the black olive.
Next, place the filleted mushrooms and cover them with two anchovies (skin side up).
If you want to make another layer, repeat the above steps.
To finish the recipe, sprinkle a little parsley or chives and dress with a drizzle of olive oil.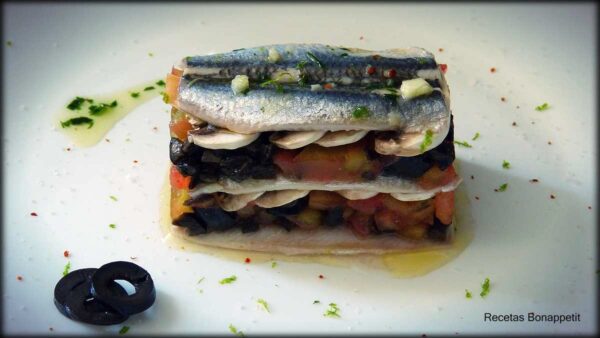 Tasty salad with a very original assembly. Thanks, David!
---
Featured product
Anchovies in vinaigrette. 100g can
If you liked the recipe, you can prepare it at home with the anchovies in vinaigrette that you will find in our online store.
Buy
Share this recipe!